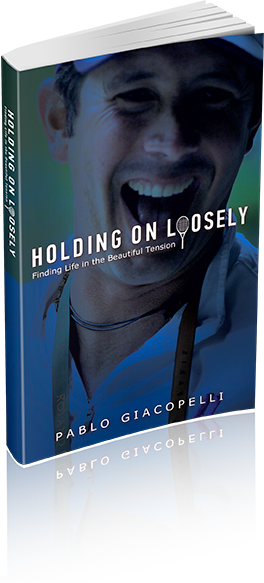 Holding On Loosely is one of those rare books that once you start reading it is hard to put it down – and can never forget.
The staying power of the message penetrates the readers' heart without permission as it invites them into an epic story of loss, love, and redemption.
Holding On Loosely tells the true parable of a man who is trapped and controlled by the prisons the wounds of his past have set up in his life. Such is the ferocious power of the pain he carries that he is unable to see the possibilities, choices, and gifts that are within him and often staring him right to his face. His reality remains untouched, though he works very hard around the clock to change it, until a dramatic event inside an airplane at 35,000 feet above the earth takes place. As the plane lands in a new destination so does his heart as it begins a new journey that will continue all the way into eternity.
His eyes are opened to a new reality where he begins to understand how to relax the control and grip over his life as he willingly exchanges the results and the identity he has found in them for a life on the road of grace, where being good and getting it right take a back seat to an enriching and fulfilling love affair with the only one who can love and touch our hearts.
While working in a result driven sports environment he discovers what it means to live present and in the moment as he actively surrenders to the one who holds all things in his hands. His identity and the validation of his life no longer a reflection of his players results frees him to experience not only the best highlights of his career but more importantly the feeling that no matter what happens the integrity of his life and heart are safe.
The journey leads him to the place where he is able to start seeing the much-needed inner healing we all so desperately need. In a dramatic chain of events he is given the ability and courage to face the biggest wound of them all inflicted during his childhood by a father that didn't know any better.
As with all great stories, the experiences Pablo lives through serve as symbols for universal life lessons. The external story reflects the hardships experienced internally by all of us, as we journey to find the true meaning of life, to be fearless and free, and above all else to know that we are loved not dependent on what we do or how good we are but because of who we are.
Most of us struggle through life, as we are totally unaware of who we really are or where we are going. We are unable to neither see nor accept our authentic selves. This inability to see things as they truly are leads us towards the wrong choices and listening to lies that are responsible for shaping our lives into an external identity based on what others say about us and the results we manage to accumulate along the way.
As you journey with Pablo through the pages of Holding On Loosely you will soon realise that this book is not another "how to" book nor another message imposing yet another challenge upon you. Instead you will sense a strange warming in your heart as you find yourself accepting an invitation into a new reality away from the illusion of control, resignation, and a false identity into a journey where you will discover the real you.
Get ready to understand real love, life, freedom, and how well you are loved moment by moment by the only one who can.

What others are saying…
"This book was compelling. It's message runs deep. Pablo's transparency brings the truth we all need to hear. This book will have an eternal impact on many souls."

David L. Cook, Ph.D.
Author and Executive Producer: Seven Days in Utopia
If you've ever thought you had to perform a certain way to earn God's love and approval, this book will provide sweet relief and healing for your soul. If you've ever thought there's no way you could read a spiritual growth book, buy this one. It reads like The Shack – one man's story with natural dialogue that carries with it the potential for a breakthrough in your faith.

Eric Dykstra
Pastor, The Crossing Church, Elk River, Minnesota, and Author of Grace on Tap
The immediate impact this book had on my life was unexpected. Pablo's experiences put words to things I didn't know how to describe or maybe didn't fully realize I had yet to work out. Yet here it all was, laid out in a sports environment, completely relatable and tangible. I'm so glad this book found it's way to me, I'm now trying hard to live in the Zone. But not too hard!

Jon Lewis

Lead singer of the EMI recording artist 'Hyland'
Holding On Loosely grips you tightly. You can't help but catch the scent of personal familiarity in this deeply honest and intimately revealing story of Pablo's pursuit of acceptance and ultimate freedom to be who he was created to be – truly beloved."

Michael L. Simpson
Executive Coach with Trove, Inc., and Award-Winning Author of Permission Evangelism and I Believe, Now What?
Holding On Loosely will change you and leave you wanting to experience the God who never lets go, who made you to enjoy His love in the moment and for all of eternity."

Krista White
Professional Sports Mentor on the WTA Tour
Pablo Giacopelli is well qualified to speak about many dimensions of life as a successful tennis coach and a trusted life counselor. Holding on Loosely, isn't a typical "How to" coaching book, however. Pablo, drops his mask and gives the reader insight into who he is as a person, and the internal changes that impact his life and relationships. The reader who comes with an open mind and heart, searching for peace, will find there is much here to be caught and not simply taught.

Bart Breen
Top Amazon.com Reviewer and Organizational Leadership Consultant