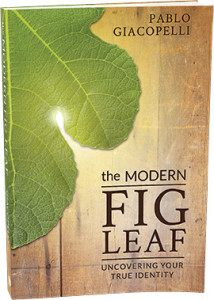 We come to the world naked, and we depart naked. How about we live it naked, too?
I want to stop pretending every day more and more. Pretending to be something I am not. Pretending to believe in things I think or say… when I don't. I want to be real, raw, and uncensored to God, to those that I come across, and to you.
—from the Introduction
In the Garden of Eden, Adam and Eve hid their nakedness and shame
behind a fig leaf—what are you hiding behind?
Many people have asked Jesus into their hearts, but live out the rest of their lives hidden and ashamed, not knowing that they can stand authentic, free, and joyful before others and a God who loves them and wants to show them who they truly are!
In The Modern Fig Leaf, Pablo Giacopelli takes you on a real, raw, and unforgettable journey into the human heart… and into the very heart of God. Rediscover your true identity as you unlock the Source of meaning, purpose, and fulfillment in your life!
What others are saying…
"If I was planning a motor home trip across the back roads of any country, I would want Pablo in that vehicle. He carries an infectious hope I witness in few others. He trims man-made moralism from the Bible's stories and reveals a God who adores us, knows us completely and deeply loves to communicate with us. This book is a courageous and very helpful guide for our own journeys, from one who makes no claims to be ahead of us. And so he is probably trusted more than most to guide us."
John Lynch – Best-selling Author of On My Worst Day and co-author of The Cure
Pablo captures in fresh words and dynamic images the ancient truths of our faith. We have lost the heart of the Gospel in our systems, structures, and institutions. Deeply rooted in Scripture, Pablo attempts to bring us home to the heart of the story—the heart of the Father—and in doing so brings us back home to our own heart. Put your feet up, sit back, and take a walk and talk with God to a place of peace, integrity, and total acceptance.
You'll be surprised where you end up. I'll see you there.
Mark Eaton – President, Eaton Leadership Foundation
In a world that is searching for who they are and what they are called to do, The Modern Fig Leaf: Uncovering your True Identity is that book! Pablo opens the doors of Heaven to reveal the truth that has been buried inside of us since before time began! This book brings us to the "a-ha" moment we have been waiting for.
I highly recommend this book!
Jeremy Lopez – Founder of IdentityNetwork.net
"…This book has the power to awaken the sleepers of false self and propel them forward into the mystical life for which they were born. This is powerful practical truth that I recommend highly!"
Robert Ricciardelli- Owner – Choose Growth and Founder of The Converging Zone.
Let the words of Pablo encourage your spirit on this sacred journey called life. We all need guides along the way. You will be greatly blessed by this sojourner who has marked the trail for those who follow.
David L Cook, PhD – Author of bestselling book God's Scared Journey and Executive Producer of the motion  picture Seven Days in Utopia.
In Joni Mitchell's iconic song: 'Woodstock,' she writes: "We are stardust, we are golden, we are part of the devil's bargain . . . and we've got to get ourselves back to the Garden."  Pablo Giacopelli's latest book: 'The Modern Fig Leaf,' gets us . .  'back to the Garden,' by revealing God's True Heart, and ultimately our True identity. Pablo takes us on a journey so familiar to us ALL. It is a journey of personal, poignant stories – the search for Love, acceptance, and the answer to the age old question: Who am I?
I highly recommend this book to you!
Carolee Dalton – Happiness Coach & author of 'Love, God
Theologically –  plenty to discuss. New wineskins needed. I enjoyed reading it in one sitting because it touched my inner wishes to follow Jesus… and do so….Simply.  Unorthodox…..and fun…like cigars and beer. HartsAlive!
Rick Hartsell – Founder – Somerset Painting and Home Improvements