I'm excited to share with all of you the second episode of The Zone Project Podcast: Getting Undressed with God.
In this second episode you will hear Part 2 of the interview my friends in South Carolina Charlie Vensel and Tim McNamara did with me about my first book, Holding on Loosely, life in Israel, and what God is up to in my life these days.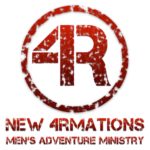 Charlie and Tim are the co-founders of New 4RMations Men's Ministry. I had the privilege of speaking at one of their men's bonfires a few years back. They've also led some groups using my materials, to which I Skyped in to answer questions directly to the participants. We've come to know each other fairly well over the years.
If you are in SC or anywhere near it I would like to encourage you to consider connecting with both of them. Their work is already making a transcendent difference in many lives. To learn more about New 4RMations and how they help men get their hearts back and walk intimately with Dad please visit Charlie and Tim at: http://new4rmations.com.
Finally I would like to share with all of you a new community I am going to be launching this week which you can check out by pressing here
In this new page you will be able to have the opportunity to be a part of the production of all my creative and life giving work which will include this podcast and other endeavors through an exciting and vibrant online community where you will get access to exclusive behind-the-scenes content, study videos, interviews, and my popular bi-weekly VBLOG. I invite you to please take some time to prayerfully consider joining me in this exciting new venture and space God has led my family and I into.
-pablo-
Podcast: Play in new window | Download (Duration: 34:52 — 47.9MB)
Subscribe: Apple Podcasts | Google Podcasts | Email | RSS | Subscribe To Podcast